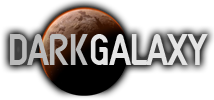 The Dark Galaxy Beta - Signups Enabled
Posted by FrostyCoolSlug - 5th May 2020
Welcome to the Dark Galaxy Beta! Firstly, many thanks to all the community members who have toiled away during the Alpha (some out to turn 25,000), to help ensure this release is as bug free as possible.

Be Advised, The Password Reset Functionality of Dark Galaxy is now working correctly, in the event you've forgotten your password, please hit the link on the Login Page

Signups are enabled for the beta, and turns are scheduled to start on the 22nd of May at 20:00 Dark Galaxy Time (DGT), we're scheulded to run for 3072 turns, with turns being disabled on Sunday 27th of September at 20:00 (after all the work, figured we should end on a Sunday!)

If you've previously registered for an alpha, you'll need to register again. Email address verification has been enabled, and a valid email address is required to join the game, this aids us with account management, password resets, as well as other bits and pieces.